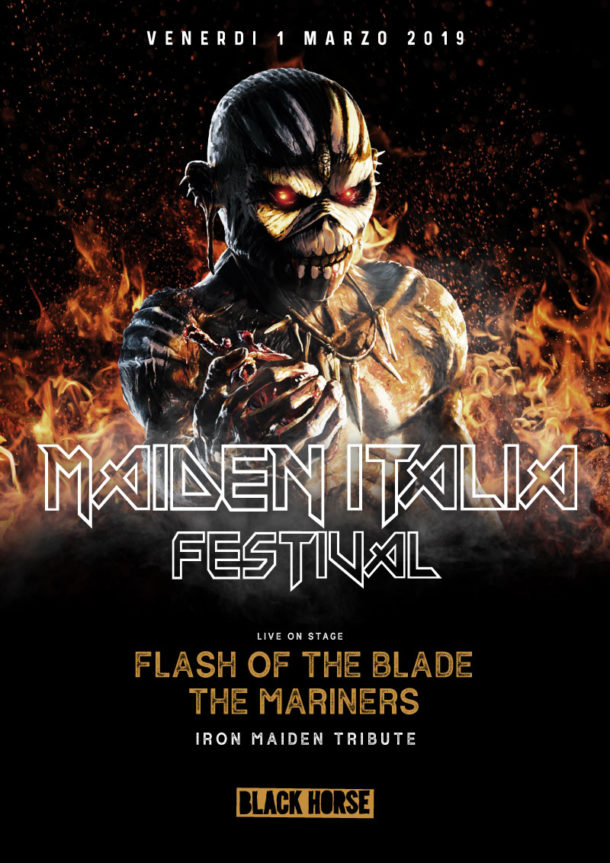 MAIDEN ITALIA FESTIVAL
Flash Of The Blade: IRON MAIDEN Tribute Band
Nascono nel 2005 per rendere omaggio alla band inglese icona per eccellenza dell'Heavy Metal, i mitici IRON MAIDEN. In tutti questi anni hanno creato uno spettacolo irresistibile e lo ripropongono il 16 Novembre sul palco del Black Horse!!
La Band è composta da:
VAN GIANNINI, vocals
SIMONE FRANZÈ, bass
STEFANO FRANZÈ, guitars & backing vocals
MARCO DEMARTINI, guitars & backing vocals
LORIS LURASCHI, drums
The Mariners: IRON MAIDEN Tribute Band
I The Mariners nascono nel 2009 con l'intento di portare in giro per i palchi i grandi successi della band britannica, strizzando l'occhio a brani che ormai i Maiden non propongono quasi più dal vivo e altri mai proposti.
La Band è composta da:
MICHELE BENZI(Basso e voce)
MATTIA PERUZZI (Batteria)
LUCA ZANONER (Chitarra)
CLAUDIO BOERO (Voce)
LUCA D'ANGELO (Chitarra)